KR Wolfe is proud to have been selected to provide equipment installation aboard the USNS Mercy while she is undergoing routine maintenance. Our installation team will be performing removal and replacement of 25 surgical lights throughout various portions of the ship and is working towards securing an additional contract to replace surgical lighting within the 12 main operating rooms on-board. The KR Wolfe team will be working closely with multiple vendors and partners to ensure a smooth and successful installation. KR Wolfe takes great pride in providing our services to the Military Sealift Command and will continue to deliver exceptional service to all our clients in the future.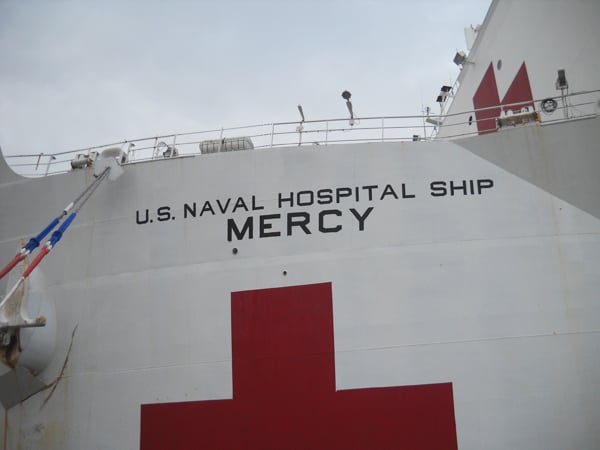 USNS Mercy Mission: USNS Mercy's primary mission is to provide an afloat, mobile, acute surgical medical facility to the U.S. military that is flexible, capable and uniquely adaptable to support expeditionary warfare. Mercy's secondary mission is to provide full hospital services to support U.S. disaster relief and humanitarian operations worldwide.
Ship Characteristics:
• Length: 894 feet (272 meters)
• Beam: 106 feet (32 meters)
• Draft: 33 feet (10 meters)
• Displacement (full): 69,360 long tons
• Speed: 17.5 knots
• Delivered to U.S. Navy: Dec. 19, 1986
• Crew Size:
Civil Service Mariners –
Deployed: 65*, Not Deployed: 18
Navy Medical Personnel –
Deployed: 1,215*, Not Deployed: 58
* When Mercy is deployed, crew size varies
based on mission requirements.
Embarked Medical Treatment Facility Capabilities:
• Mercy has one of the largest trauma facilities in the United States.
• The hospital has a full spectrum of surgical and medical services including four X-rays, one CT scan unit, a dental suite, an optometry and lens laboratory, a physical therapy center, a pharmacy, an angiography suite and two oxygen-producing plants. Mercy is capable of maintaining up to 5,000 units of blood.
• Patients arrive aboard primarily by helicopter and sometimes by small boat.
• Patients are assessed for medical treatment in casualty receiving and routed to surgery or other services depending on their medical condition
Reduced and Full Operating Status/Crew:
• When not deployed, Mercy is kept in reduced operating status in San Diego where a small crew of civil service mariners and Navy medical personnel maintain the ship in a high state of readiness.
• When activated, Mercy can transition to full operating status in five days.
• Mercy is operated, navigated and maintained by a crew of civil service mariners working for the U.S. Navy's Military Sealift Command.
• Mercy's Medical Treatment Facility is crewed and maintained by medical personnel from the Navy's Bureau of Medicine and Surgery