KR Wolfe Inc. is in the final stages of having 100% of their technicians OHSA certified. Occupational Safety and Health Administration (OSHA) certification helps to ensure that workers are more knowledgeable about workplace hazards and their rights, and contributes to our nation's productivity. A large number of KR Wolfe technicians have already completed their respective courses and are OHSA certified. By enrolling every technician on staff in the 10-hour or 30-hour classes delivered by OSHA-authorized trainers, we plan to have all technicians OSHA compliant by the end of August 2011. This accomplishment shows KR Wolfe's steadfast commitment to workplace safety.
OSHA provides training on injury and illness prevention, safety in the green jobs arena and is also currently campaigning to prevent heat illness in outdoor workers. KR Wolfe Inc. is proud to promote safety in the workplace and will continue to ensure that all technicians have every available tool and certification necessary to complete projects on-time, safely, and exceeding clients' expectations.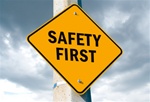 For more information about our OSHA certification, please contact info@krwolfe.com today!