KR Wolfe Inc., working alongside Stryker Communications, is installing state of the art telemedicine equipment into UC San Diego's leading Southern California medical education facility. Read more about the project below…
UC San Diego School of Medicine to Build an Innovative Hub of Learning for the 21st Century
Chancellor Marye Anne Fox and Vice Chancellor David A. Brenner, MD, dean of the School of Medicine, hosted a groundbreaking ceremony and reception for the new UC San Diego Medical Education and Telemedicine Center Friday, November 20. The event took place on the east lawn of the School of Medicine campus, between the Medical Teaching Facility and the Stein Research Building.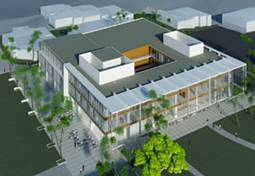 With the construction of the new Medical Education and Telemedicine Center, scheduled to open in the fall of 2011, the UC San Diego School of Medicine is investing in an innovative way of educating future physicians and a new way of delivering health care.
The approximately 99,000-gross-square-foot facility, with 60,000 square feet of assignable space, will be a hub of learning that incorporates state-of-the-art design and technology to prepare medical students to become physicians and innovators of tomorrow. It will also be used for physicians to learn new skills utilizing the latest advances in medical and surgical technology, such as surgical robotics.
In addition, the new facility will be a regional and statewide center for new initiatives in tele-education and telemedicine to support improved health care access. Telemedicine uses telecommunications to practice medicine over far distances, which allows medical care and expertise to be provided to remote areas and communities with inadequate physician coverage.
Approximately half of the funding to build the new Medical Education and Telemedicine Center comes from Proposition 1D, a bond initiative passed by California voters in September of 2006 to expand and enhance medical education programs with an emphasis on telemedicine.
The building design and systems incorporate sustainable "green building design" features and practices as defined by the United States Green Building Council Leadership in Energy and Environmental Design (LEED) standards.
Among the building's features:
A telemedicine training and consultation center, which will also provide long-distance tele-education capabilities
A 9,000 square-foot clinical skills and simulation center, with 18 exam rooms, a simulated hospital room, intensive care unit and emergency room with an operating room
A 6,800 square-foot medical and surgical procedures teaching laboratory with 22 stations, where students, residents and current practitioners will be instructed in the latest surgical, laparoscopic, robotic, endoscopic, catheterization and other special techniques
Classrooms, learning communities and student services, including a large auditorium to accommodate increased medical student enrollment through the Program in Medical Education – Health Equity (PRIME-HEq), which supports medical students who have chosen to focus on health disparities
A large facility for computer-based testing
Dining facilities and common areas to further support the community of medical school faculty and students
The construction of the facility coincides with the transformation of the School of Medicine's curriculum – the result of more than two years of faculty, student and administrative review and planning. The new education complex will provide the physical infrastructure to support a progressive new curriculum, which more fully integrates the students' clinical and scientific experience beginning on the first day of medical school.
As students are learning the basic fundamentals of medicine, such as biochemistry, pathology and anatomy, they will also begin learning from patients in the clinical environment.
During their first year, medical students will learn the basic principles of patient interviewing and examination, ethics and other professional development. Through exposure to patients as junior members of a health care team, they will understand better how the material they are learning can be used to treat, cure and prevent illness. Practice in simulated settings will ensure that when the medical students become more responsible, they have the preparation and skills required to help patients.
With an emphasis on communication, collaboration, and inquiry, UC San Diego's new curriculum recognizes that today, the best patient care is delivered by teams of professionals working together across disciplines and with the patient.
This 21st century facility will create an environment where tomorrow's physicians will learn the art and science of medicine, from their involvement in small academic communities to their advanced clinical and research training, delivered in high-tech biomedical, simulation and telemedicine learning laboratories.
Currently ranked 15th among the nation's research medical schools (U.S. News & World Report 2009), the School of Medicine is enhancing its established excellence by more effectively weaving together the professional, scientific and humanistic aspects of medicine in the training of new physicians.