KR Wolfe, Inc. is recognized nationwide as a leading provider of healthcare construction services, specializing in hospital Operating Room renovation, capital equipment installation and systems integration. KR Wolfe is simply unmatched for its combination of technical expertise and uncompromising customer service.
Always mindful of the cost of OR downtime, the KR Wolfe team routinely completes OR Renovations, including full boom replacements, in five to seven days. On projects that require heavy construction and welding, timelines to completion are typically seven to ten days, assuming all equipment is on deck.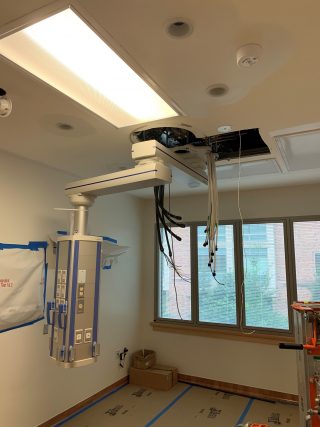 Multiple ORs or ICUs in a single facility are often renovated on a single contract, typically with only one taken out of service at a time. A current project for the National Institute of Health in Bethesda, Maryland is a prime example. KR Wolfe is replacing existing booms in 24 ICUs, including structural upgrades, seismic reinforcement, med-gas, data systems and electrical work.
A Full-Service Approach
KR Wolfe customers appreciate the company's thorough, full-service approach. Pre-construction services include managing, planning, scheduling and design, value engineering, maximizing front-end planning, project buyout and feasibility studies to prevent issues during execution.
According to company president, Rachel Wolfe, "we value developing strong teams among the key stakeholders to ensure the establishment of trust, respect and support."
Professional Construction Management
In addition to serving as a General Contractor, KR Wolfe provides professional Construction Management services. From awarding contracts and coordinating all subcontractor activities, to handling material procurement, monitoring costs and schedules and maintaining exceptional quality control standards, KR Wolfe's construction management services are designed to ensure consistently positive construction experiences from start to finish.
Specialized Support During COVID-19 Challenges
With special expertise in infection control, our teams have been called upon to help hospitals expand treatment capacities and minimize infection risks during the coronavirus pandemic. Here are a few common objectives:
Minimize Patient Exposure Risk
Check-In/Evaluate Patients Outside Before Admitting to Facility
Meet All Immediate Infection Control Needs
Build Temporary Check-In Areas
Whatever your project's unique needs, KR Wolfe has dedicated teams that can rapidly respond nationwide to support hospitals and healthcare facilities.
Serving Water Districts, Utilities and Commercial TI Needs
As a full-service general contractor, KR Wolfe is uniquely qualified to deliver turnkey construction solutions for a complete range of governmental and commercial projects. KR Wolfe is currently seeking to expand our reach into commercial and industrial real estate Tenant Improvements, municipal water districts and utilities-related construction projects.
Regardless of project size, KR Wolfe's experienced teams will ensure a successful delivery, meeting or exceeding expectations of time, cost and quality. By managing risk, KR Wolfe Construction Managers focus on results and resolution while monitoring myriad project details.
Every successful project starts with a friendly conversation. Contact us today to discuss any upcoming projects or construction concerns.
About KR Wolfe, Inc.
Incorporated in 2007, KR Wolfe delivers turnkey solutions for technical construction projects, proprietary equipment installations, systems integration, and field service maintenance. Our unmatched scope of capabilities, passion for new technologies and best-in-class customer service have made KR Wolfe a leader in our industry.
Making the Equipment & Technology of Tomorrow Work Today